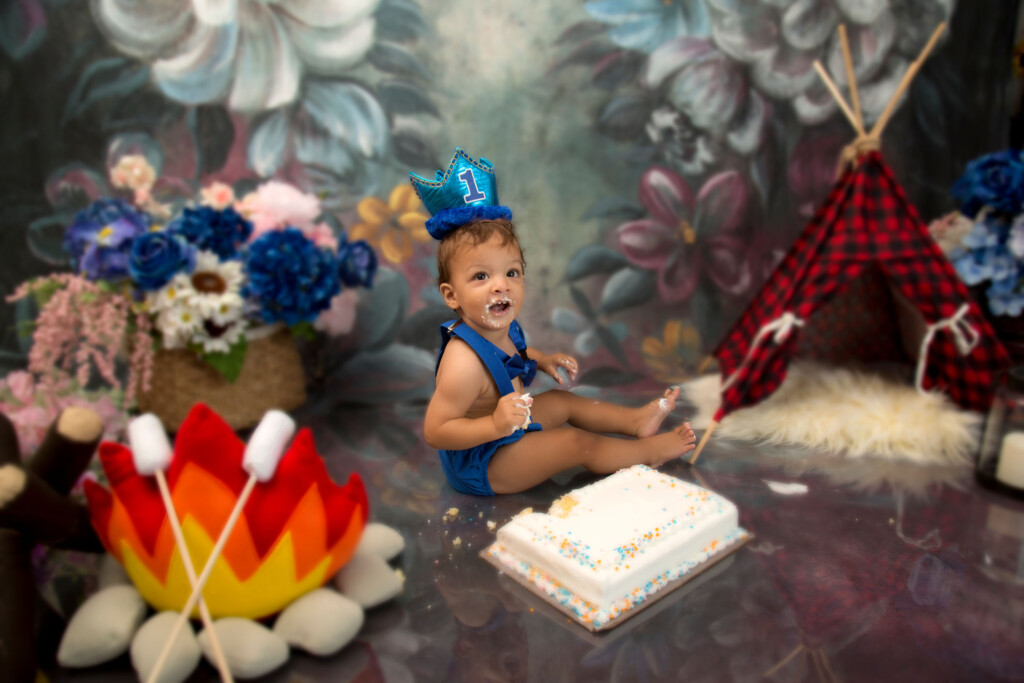 Cake Smash Photography
The Amazing Photo Session
We love Cake Smash sessions, they are SO much fun! It really is a unique moment and a lot of fun to watch and photograph. Celebrate your baby's birthday with a really creative and different photography session to capture this important milestone in their life! One-year-olds are just adorable. They're hilarious and the cause for our laughter and joy. You just can't imagine what they'll do next. Toddlers are wondrous and curious about everything they see and touch. They're a treat to photograph. One of our best-loved sessions is photographing a baby's first birthday – also known as a cake smash birthday.
The Highest Quality
Do you want to do the photo shoot at our studio? Do you have an outdoor location in mind that has special significance? We'll gladly come along with you! Our services allow you to have your creative pregnancy photography done in whatever location that's best for you and family. At our studio, outdoors, or any other location of your choice, we will make it happen.
Scheduling Your
Cake Smash Session
Give me a call and I'll go over with you the various colors, themes, and anything else. We can even go in for a cute bathtime photo shoot. We have different packages and you can check them to see which one would suit your need. As in all photo shoots, there is a bit of planning that goes into the Cake Smash session and we'll be by your side throughout. Prior to the photo shoot, we will discuss the colors, themes, props, and clothes.
Cake Smash sessions are normally done on your baby's first birthday (One year after birth).
What to Expect From a Cake Smash
I've chuckled, giggled, and laughed so much that many times I've cried tears of happiness during these photoshoots. If you have a baby that's about to celebrate its first birthday, we'd love to help you enjoy this cake smash birthday session. It's not difficult to do, and it'll give you photos that you'll cherish forever. Your child's first birthday is a big milestone. Using a cake smash photography session to commemorate it is perfect. Our photographers, at Artin Photography, will capture these candid moments as you, your family, and your child have fun. We'll customize your child's birthday session to your liking or theme that you may have thought of. We'll make your cake smash photo session and birthday experience one that you'll remember.
We won't rush your session​.​
We understand that as expecting mom you are dealing with lots of pressure and stress. So we do our best to run your session as smooth as we can.
Cake Smash Photo Session Tips
Be prepared for anything
Don't feed your baby right before the session, as they lose their appetite for cake
Select and plan a theme that easy and simple to do
Don't overdo the props
Choose light colored clothes or contrasting clothes. You should let your baby select their dresses
These sessions are candid and poses are not and cannot be planned in advance
Don't be too fussy about what your child does and does not do with their cake or poses
Siblings are welcome and you should allow them to interact with your baby
Never ever schedule a photo shoot around your baby's sleep / nap timings
Let them taste or splatter the cake wherever they want to
Don't interrupt their cake smash session unless it's life threatening or your baby is getting irritated
Don't restrict your baby into what you want the photo session to look like
Get your family in on the fun and enjoy it to the fullest
Don't be stressed out about what is going on and how it will come out. Everything will be just perfect in the end.
Last but not least, have fun and enjoy.
A few shots before it's gone
It's best to take photos before they've seen the cake. Once a cake is in front of a baby, there won't be any more clean-faced shots. I love to take photos at this time because it brings out the best in them and it's just too much fun. After the cake smashing, your bundle of joy is not going to pose anymore. Honestly, most photo shoots end with the baby crying as they've realized they're a dirty or you've taken the cake away. It's best to take photos now with their most-loved toy, in their room, or when they're taking wobbly steps and finding their balance. In any case, once the cake arrives that new, bright, and tasty thing is going to be their sole focus.
Cake Smash Session Pricing:
From experience, we know that photography shouldn't be rushed, especially when it involves newborn babies and kids. Our session times are flexible depending on how the session is going, we want to ensure that we have enough time to capture the right moments and never want you to feel rushed or stressed during your photography session.
The packages cover "Your newborn", "You", and "Your spouse". If you have other children, you are more than welcome to bring them. If you are interested in including your baby's "Grand Parents", you need to pay $35 for each person.
It's a messy affair
Let's be frank, it is going to be a messy affair. You have no clue as to how things are going to turn out. Some babies just want to put their finger in the cake, but others want to throw cake across the room. You cannot do much if your baby wants to shower you with their Power Puff Girls or Frozen cake pieces or frosting.
Location
You should select your location keeping this in mind. It's best if you select an outdoor location to do the cake smash session in good weather. Your next best location, due to the weather factor, would be our studio. The backdrop is perfect and limits the movement of the child to some extent. Most one-year-olds don't move and always avoid going near the edges.
Capture the Memories of Your Baby's First Birthday!
Your precious little baby is about to become a toddler and it's time to celebrate! And Artin Photography can help you give them their first taste of cake in style!
A popular trend that originated in the United States, Cake Smash photography involves taking pictures of a child's first birthday. Here at Artin, we can help you preserve those beautiful moments with our photography. Since it's a cake smash and your baby is the star of the show, our sessions are geared towards them having fun! We let the kids lead, and we go at a pace that's just right for them. If your little one gets bored, we move on, if they want a break, we take a break! Our sessions are all about you and your little one having a good time!
If you're looking to schedule a photoshoot in Vancouver or Coquitlam, BC, for your baby's first birthday or would like further information on our cake smash photography services, get in touch with us today.
What Is The Next Step?​
We do our best to make your photography experience as smooth as we can.
BOOK YOUR SESSION IN ADVANCE
The earlier you book your session the better chance you'd have to choose your desired time.
DO YOUR SESSION IN PEACE
We work together to do your session smoothly and will try to take all the shots before you get tired.
WE WILL GIVE YOU THE INSTRUCTION
You will receive detailed instruction regarding all the steps prior the session.
CHOOSE YOUR FAVORITE SHOTS
Right after the session we will send you a link to our secure server to choose your favorite shots.
BRING YOUR MEMORABLE ITEMS
We encourage you to bring outfits and items related to your culture and background to use in the session.
RECEIVE YOUR HIGH RESOLUTION FILES
After you picked the photos we work hard to retouch and send them back as quick as we can.
The Shoot (Cake Smash)
Put your little one in clothes that you have no problem getting dirty or ruined. You should be prepared to give your baby a bath right after.
Lighter colored cakes are preferred with bright big elements on top. Chocolate cakes with frosting tastes best, but in the end it looks like mud. We let parents choose the cake they like. We are not picky about the cake parent's select and usually work with what they have chosen.
Please Remember
Since it's their first birthday, obvious photos of birthday celebrations are normal. We recommend using party hats, streamers, balloons, banners, gift boxes, and flags add to pamper and give the shoot a gracious touch. However, do not overdo the props as they can distract your little one. The idea is to create a pleasant cake smash ambiance. If the props do not help, it's better to move them away. Keep it simple, as you want to focus on your little one's birthday. You might end up with not using any of the props anyway.
Up Close and Personal
Those cute little fingers, their small toes, and hilarious cake smashing are what we are looking to capture up close. Cake in-between fingers or frosting on their little lips looks beautiful. One of the best shots is of their little fingers poking the cake curiously, touching and feeling the texture of the cake. The best fun cake stories are told when you get close-ups, along with the overall shot. We'll be shooting from different angles – above, eye level, below, and every side. We'll take shots as long as your background and lighting are working well from these angles.
Cake Smash Egging
Sometimes your little one is a little shy to indulge in the cake smash itself. You'll even have little ones that just want to eat rather than smash. Then you have babies that do want to touch the cake itself. We want to capture this, as this is what her true personality is. This is more precious than that which is completely out of character. We don't want the photos to look like something that has been set up. Nevertheless, you can take so many photos without anything happening. It may help parents give their children a taste of the cake, making them want more. You can also try giving them a baby spoon to approach the cake.
Still, if nothing happens,
break a piece of cake and put it in their hand. Many times, they don't know what to do. We need to give them some hints and encourage them to explore new possibilities.
Emotions, Emotions, Emotions
For a child, Cake Smash Photography is something different, it's new. Some kids get happy seeing a cake, others get overwhelmed and start to cry. As a parent, you should be prepared for both scenarios. We'll capture a few shots before you go in a comfort them. Don't worry if your child is not happy or smiling. Most times, "One-year-old"s are not always happy or smiling. Toddlers cry when they get overwhelmed. Our main aim is to bring joy and happiness to the session, so we'll keep it as light as possible. It's better to enjoy rather than have things go according to plan. It's in these times that you get the best-unexpected shots.
Remember The Taste Of That Cake
Cake Smash photo shoots are mostly enjoyable, dirty and disorderly, and memorable sessions. You child will turn one once, just like being a newborn for a few weeks. We capture these memories for you to remember them forever or even make fun of them whey they grow up. These aren't just photos; they'll make you smile every time you look at them. You can look at them 10, 15, or 20 years from now and still remember the taste of the cake!